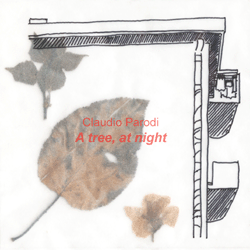 A tree, at night


Il Sediosauro


corridoio, la Donna bicipite
cale, Foglia rinsecchita


S
utra di Guscio di Lumaca


Il Maniaco della Pulizia


Sentenza n. 2255


The red bad cat gang


Feather of an eagle
10 €
OTHER PAYMENT METHODS
REGISTERED MAIL
please contact
luscinia.discos@gmail.com
DISPONIBLE TAMBIÉN
en
Candilejas (Málaga)
Claudio Parodi is an Italian composer, sound artist, improviser and multi-instrumentalist. His new work, A tree, at night, is a particularly original proposal in his repertoire of genres: a sort of hörspiel around a peculiar neighborhood... We recognize how sound material concerns our author, from minimalism in instrumentation and melodic cells to expressiveness in voices and tactful discourse. Inspired by reality characters, a story is told by actor Luigi Marangoni and singer Bobby Soul, mainly, but also with the participation of Carlo De Benedetti, Ratti and Claudio Parodi himself, who as well accompanies with a succinct instrumentation used since centuries in Africa to tell stories: thumb piano and shakers. Beautiful and excellent in concept, development and in all details conscientiously cared, this is a fresh, rich and perfectly balanced album.
" [...] Recovering vital pieces of the past is one thing, but they need to be consolidated into present activity. I've been getting my head around a set of discs sent to me by the Italian composer Claudio Parodi. Right now I'm listening to A tree, at night, a sort of hörspiel* for intoning voices, shakers and thumb piano. One voice narrates, mostly in Italian, another chants phrases over and around the speaker. There are nine chapters, mostly similar in style.
There's a story going on here but my Italian's not good enough to follow it. (The CD booklet gives a link to an English translation.) The voices' rhythms are lulling, as are the shakers that play almost throughout. The simple instruments are derived from storytelling traditions "in Africa" but I keep thinking of Robert Ashley's operas – for all the words, you get lost in their music. (Ashley was also not averse to translating his libretti into foreign languages.)
The story is something about moving house, exploring a neighbourhood; and this gets me thinking about some of Alvin Curran's old sound collages, mixing music, narrative and street recordings around Rome into a personal, oblique narrative. There are no field recordings in A tree, at night but, by some strange means in the music, I keep misremembering this simple fact.
As for the listening experience: how much of it is down to Parodi, how much to me, and how much of it to what's in the music, waiting for either of us to find it? […]
*I just checked the website and it literally uses the exact wording as I did. Must have a good ear. " (Ben Harper, Boring Like A Drill, 14/7/16)
— —
" While looking at the work of Claudio Parodi, the first consideration that comes to mind is the absence of any element that would allow the classification of an artist, and perhaps that's the cause of the fact he is remaining a substantially hardly present name in the musical press. The main critic's activity, and concern, is genre's classification, and to put the work in a temporal flow, therefore resorting mainly to discuss concepts such as influence and innovation. The recurrent scholarly analysis of the aspects of form allows the incorporation of the artists, also different from each other, in a set which is called a scene, putting on the background any analysis of the work and its meaning.
The work of the Italian composer is characterized by a wavering movement between genres and media, which puts them at the service of a process of communication. [...]
After a job linked to the place of birth, A tree, at night is based on a relocation and it is a return to the song form, but instead of being a generic element as in the work with Thomas Buckner, in this case the story is the center of the work. The desire to recount the living place as a mirror of the social situation becomes the key to understanding the reasons for such a journey in the expressive possibilities of a language. The author puts openly on sound background, using the traditional tools of African traditions to create a sound equivalence between the observation of facts and the accompaniment, or the act of listening to the story.
The work of Claudio Parodi poses an analytical problem related to the apparent absence of a unifying element of the first level i.e., lacking a perceptible sound link between the works. [...] Halting the analysis to the immediately perceived elements, the writing as a unifying element of the works goes out of sight.
[...] In this construction the audible becomes, via registration, a sound project adaptable to various configurations and it leaves Claudio Parodi free to move in different contexts without having a sound form defined a priori to secure it to a specific form. " Leer artículo completo... (Andrea Piran, Flux, 9/7/16)
— —
" Claudio Parodi is an Italian composer, sound artist, improviser and multi-instrumentalist. He made very different statements up till now. I remember a solo album, 'Heavy Nichel' for solo clarinet for Creative Sources. Another one, 'Prima del Torzo' (2015), had a prominent role for field recordings. This time Parodi made a very vocal- and text-oriented work. Knowledge of the Italian language is essential for this work, built around spoken word as it is mainly spoken in Italian, besides a bit in English. Text and music are by Parodi. In all nine tracks Parodi plays thumb piano and shakers, evoking African atmospheres. The vocals come from Luigi Marangoni and Bobby Soul –artist name for Alberto de Benedetti, plus a few guest appearances. The voice of Marangoni is most of the time in the forefront, reading a story. In the background we hear Bobby Soul, singing in a gospel and soul inspired way, repeating short English phrases. It is a minimalistic work that Parodi offers here, that moves somewhere between music and radio play or 'Hörspiel'. Although I didn't understand a bit, there is some hypnotic magic in this work that affected me and made me forget what it is all about. Especially where Parodi makes layers of spoken and sung vocals, he celebrates the beauty and expressiveness of the human voice. A plain narrative work. "The relocation in a new house is the excuse to make a portrait of the new neighbourhood which is a mirror of a part of the country and a social reflection as our cities became empty as book shops and cinemas close". A work of clear vision and inspired execution. " (Dolf Mulder, Vital Weekly, #1025, 29/3/16)
— —
" Les effets de Prima del Terzo ne s'étaient pas encore dissipés que se faisaient entendre les neuf pièces d'A Tree, at Night. Après avoir mis le port de Chiavari en bouteille, c'est vers ses habitants – réels ou fantasmés : Claudio Parodi aux voix, tout comme Luigi Marangoni, Bobby Soul, Carlo De Benedetti et Ratti – que Parodi semble ici tendre ses micros.

Certes, on entendra quelques notes de sanza, un brin d'italien chanté changé soudain en conversation – on soupçonne plusieurs fois un maladroit jeu d'acteurs – et quelques boucles de voix arrangées sur plusieurs pistes. Folie radiophonique, A Tree, at Night est en fait un conte dont les mots nous échappent et dont, aussi et malheureusement, le théâtre nous perd rapidement. " (Guillaume Belhomme, Le son du grisli, 16/3/16)
— —
" Claudio Parodi seems the typical example of an errant composer always searching for new path; after album of rigorous, and abstract, music research arrives at a sort of narrative album closer to the Residents' releases of the '80s. The relocation in a new house is the excuse to make a portrait of the new neighborhood which is a mirror of a part of the country and a social reflection as our cities became empty as book shops and cinemas close. So, the album is completely focused on the voices of Luigi Marangoni and Bobby Soul while Claudio Parodi set a quiet musical background with thumb piano and shakers overtly influenced by the african tradition of accompany a narrator which entertains the listeners.
The thumb piano that opens A tree, at night introduces the listener into a sound field closer to some forms of radio drama as it aims to underline the voices; and the line "feather of an eagle" sounds as a loop which will recur along the album. 'Il Sediosauro' enacts the figure of the meddler living in a bench observing everything while 'corridoio, la Donna bicipite' portrays the figure of a smoking woman. The female cook of 'scale, Foglia rinsecchita' talks about the altercation heard in a condominium. 'Sutra di Guscio di Lumaca' features the most complex writing of this release as it compares the cyclist to the snail as only who travels slowly has the time to know the places and it could be a metaphor of the writer. 'Il Maniaco della Pulizia' is a mockery of the kind of person obsessed with cleanliness seen as someone who sees the world out of control. 'Sentenza n. 2255' orders the tree's cut that deprives the snail of an home. 'The red bad cat gang' is an interlude which reminds of some old cartoon about cats. 'Feather of an eagle' closes this release depicting the sense of relocating in a new home.
This release is another shift in the musical output of this artist as it's a work completely focused on words and is an half-serious portrait of a condominium so it's truly recommended to follow the music with the booklet to enjoy the search of the musicality of the speech. Truly recommended. " (Andrea Piran, Chain D.L.K., 21/2/16)